2024 E-Ray hybrid 1/17/23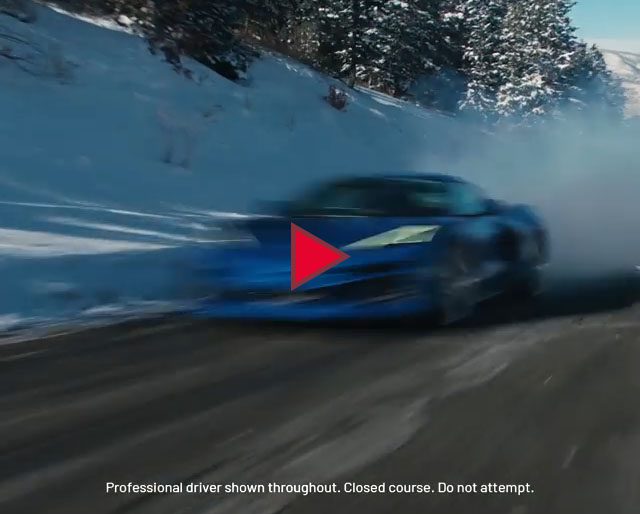 Video Credit: General Motors
The new 2024 Corvette E-Ray hybrid-electric sportscar will debut in one week per a new teaser from Chevrolet.
"After 70 years, we're introducing one like none," Chevy writes. The teaser video above includes quick shots of the 2024 Corvette E-Ray as it drives in the snow and on the street, and while there's no narration, we get to briefly hear the naturally aspirated 6.2L V8 LT2 gasoline engine rev and burble.
Chevrolet will introduce the newest C8 Corvette model on January 17th. If that date sounds familiar, it's because 70 years ago on that same day in 1953, the Chevrolet Corvette made its public debut at the GM Motorama show held at the famous Waldorf Astoria hotel in New York City.
The video shows the driver selecting a "stealth" mode which suggests that the E-Ray will offer a pure electric driving mode, but fret not, as you also have the 6.2L V8 LT2 gasoline engine to power you around. But turn both on and have the first factory all-wheel drive Corvette to be offered.
With the two front-mounted electric drive units and the LT2 V8, the output is expected to be around 600hp, placing the Corvette E-Ray roughly between the C8 Corvette Stingray and C8 Corvette Z06. With the torquey electric motors and all-wheel drive grip, this may have a better ¼ time than the Z06.
---
Win this 2023 Z06 Corvette with the Z07 Performance Package!
The Chip Miller Amyloidosis Foundation is giving you the opportunity to win a 2023 Corvette Z06!  The Grand Prize Z06 is a Coupe offered in Elkhart Lake Blue and features the Z07 Performance Package with Carbon Flash Metallic ground effects and high wing spoiler. Inside is a 3LZ trim package outfitted with a Sky Cool Gray interior and GT2 seats, and the car rides on aluminum Spider design wheels in Satin Graphite with a Red Stripe. Your donation of $25 or more helps to raise awareness for Amyloidosis, the disease which claimed the life of Corvette enthusiast Chip Miller in 2004.
Thundering Thursday readers receive 30% Bonus Entries with ticket packages starting at $25. Enter today to win the most anticipated Corvette ever by Clicking Here!
---
Want to share your story in our Corvette Owner's Corner and get a chance to win a limited-edition Corvette Mike hat?
Every entry will receive a limited-edition Corvette Mike Keychain.
Send a short story and picture of your car to Troy@CorvetteMike.com.
Want to buy a hat?
Click here to see our Apparel Store.
This Week's Owners' Corner
George K. Part #2 (read part one by clicking Here)
I had completed a four-year 2,000-hour restoration of my split window fuelie in time for the Amelia Island Concours, and my thoughts were moving on in search of my project. We found a '62 at an auction in the Northeast. The fuel=injection fender emblems of course caught my attention, but when I opened the hood, I found a rather nasty-looking engine bay adorned with an iron manifold, Carter AFB carburetor, aftermarket fuel pump, later-model alternator, and a massive set of custom headers. A look inside the interior revealed a monster Hurts shifter in place of the factory T-handle unit. My first thoughts were that this was just another phony fuelie boy racer that had been treated to a nice re-spray. Much to my surprise, when I opened the trunk, I found a box which contained a fuel-injection unit, manifold, original air cleaner, hoses, and a thick file of paperwork. A quick check of the date codes and tags confirmed that yes, this was a real-deal fuelie. Ten minutes later the car was mine!
This Corvette was produced on 10/24/1961 and sold new by Daniels Motors, Inc., Colorado Springs, Colorado, on 11/2/1961 to Corvette enthusiast Dr. Milan Predovich of Pueblo, Colorado, who traded in his 1961 Corvette. The salesman for the transaction was his friend, Bill Daniels, son of Al Daniels, the vice president of the dealership founded in 1929 by Cady Daniels. That thick file of paperwork included the Daniels Motors, Inc. manila jacket containing the original purchase order, dealer delivery sheet specifying all components and key codes, dealer copy of the GM passenger car order form, inspection reports, registrations, and multiple service records.
Tune in next week for part three of George K's story.
---
327/300hp, 4-speed manual transmission.
This very nice and very original Corvette has been in the same family since 1970! It's been maintained and refurbished over the decades and features nice paint and interior and a #'s matching 327. It looks, runs and drives great! The car has been in CA almost since new and features a clean, rust-free frame. Optioned with both hard and soft tops and radial tires.
---
Coming in soon
1970 Daytona Yellow COnvertible
350/300hp, 3-speed automatic and Factory A/C!
This very sharp '70 came to us from a local SoCal owner. It's a great configuration! A small block convertible with an automatic, power steering, power brakes, and highly desirable factory air conditioning! The car has been nicely refurbished with a #'s matching engine, rebuilt 350/300hp (dressed like a 350hp). It's a really nice driver with shinny paint, nice soft top and interior. What we like most about it is that you can drive it and just have fun taking it anywhere!  It's a driver, but a very cool driver that you will be proud to own!
---
Parts For Sale!
Corvette C2 (mid-year) hard top. Elkhart Blue with Blue headliner.
Restored with nice paint, clear back window and soft seals.
This top will fit a '63-'67 Corvette Convertible.
We also have C1 hardtops for sale.
Priced at: $5,900
---
CF1 Roadster
Kindigit Designs & Corvette Mike Collaboration
Kindigit Designs of Bitchin Rides and Corvette Mike have collaborated to bring you the Koolest of Bitchin Rides — a series dedicated to the ultimate resto-mods. The last of a true breed of combustion engines purpose-built by Lingenfelter, developing enough horsepower to rip the steel cords right off these Michelins.
This combination of a very limited, select edition of carbon fiber bodies mated to Roadster Shop chassis culminated into something very special. The first, from scratch, retro look 1953 Corvette Roadster with all the trick goodies of modern-day Sportage transportation with a flare to dare you not to stare.
This CF1 is already SOLD, though you can custom build
and reserve yours today! Talk to us, baby!!
Call 714-630-0700 or email: Troy@CorvetteMike.Com
---
Comic of the Week
Some random thoughts
A study of economics usually reveals that the best time to buy anything is last year.
When you go to work, if your name is on the building, you're rich. If your name is on your desk, you're middle class. And if your name is on your shirt, you're poor.
Accomplishing the impossible means only the boss will add it to your regular duties.
Powered by WPeMatico